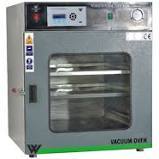 Product Description
Vacuum Oven
Usage: For laboratory
Height: 400 Millimeter (mm)
Width: 350 Millimeter (mm)
Product Type: Vacuum Oven
Weight: 320-610 Kilograms (kg)
Voltage: 230 -440 Volt (v)
Material: SS and MS
Features:

Most dependable and economical budgeted priced
Chamber made of heavy gauge stainless steel year of corrosion resistant
Exterior of M.S/GI sheet finish in epoxy powder coated shade
Heat treated glass window leaves clear content view.
Silicone gasket and positive door latch assure tight seal at all vacuum levels
Choice of temp. controller from solid state digital temp. controller or microprocessor based PID controller.
Two needle valves one for vacuum and the other for flushing or inlet.
Maximum vacuum up to .
| | | | | |
| --- | --- | --- | --- | --- |
| Cat. No. | Size | Temp. Controller | Temp. Range | Watts |
| AEI -110/A | 9Dia x12Depth | Digital | 50c to 200c | 700 |
| AEI -111/B | 12 Dia x 15Depth | Digital | 50c to 200c | 950 |
| AEI -112/C | 15 Dia x18 Depth | Digital | 50c to 200c | 1100 |
| AEI -113/D | 9 Dia x 12Depth | Microprocessor based PID controller | 50c to 200c | 700 |
| AEI -114/E | 12 Dia x 15depth | Microprocessor based PID controller | 50c to 200c | 950 |
| AEI -115/F | 15 Dia x 18 Depth | Microprocessor based PID controller | 50c to 200c | 1100 |
Get in touch with us